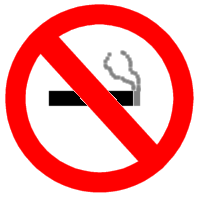 •Does the thought of smoking enter your mind first thing in the morning?
•Do you find it being your companion every time you have a break?
•Does it stop you from tasting and feeling great about yourself?
•Does it make you feel out of control and needy when you don't have it?
•Do you feel like you have to hide your smoking from others?
•Do you distance yourself from others because of the smoke?
•Do you have things you want to do but have not done because you smoked?
Yes/No
Yes/No
Yes/No
Yes/No
Yes/No
Yes/No
Yes/No
If you answered Yes to some or most of the above, and you wish to be Smoke Free, then you've most probably come to realise that ...
Your Life Matters, and that you are ready for this change.
______________________________________________________________________
Just the fact that you are reading this page indicates strongly that you have taken more that your first step towards becoming smoke free for life.
You have already begun your journey of re-discovering a life that is smokefree because you've obviously gone through the process of searching for sites relating to stopping smoking therefore you are well on your way to achieving your intentions.
Perhaps you've come to a stage where you want a better quality of life. Maybe, you've decided to free yourself of the hold that smoking has had on you until now.
You may no longer appreciate the impact smoking has had on your health and relationships.
You may have decided that there are more worthwhile things your money could buy instead of cigarettes. Did you realise that if you have smoked a packet of 20s a day at $9.45 a packet, it costs $66 a week? Being smoke free will save you $3432 every year.
Perhaps you have tried to stop before or have been thinking about it for some time.
Are you ready to ... Stop Smoking Naturally?
If so, did you realise that stopping smoking has nothing to do with your will power?
No matter what your experiences have been with regards to stopping smoking eg. whatever you may have tried before and whatever other people may have told you about stopping smoking, I wonder if you realise that becoming smoke free can be easy.
Just like baking a cake ... if we try to bake with some ingredients missing, no wonder then ... that produces unrelaible and unpredictable results. Get the right recipe, know what ingredients are required and follow the step by step instructions clearly, then success becomes a certainty.
How this programme works for you?
Smoking can affect many levels of your personality.
Smoking commonly affects people:
1. physically (neurological and chemical)
2. emotionally (stress and loss)
3. mentally (focus, ability and reasoning)
4. spiritually (awareness).
Based on the ReEmergence technique and principles, this smoke free programme addresses the important underlying issues that surround the habit. Not only does it empower you to stop the habit if that is truly your highest intention, it also enables you to become the true master of your own mind and personality. Therefore, if you are ready for change on all levels of life, then you are ready for this programme.
Through the understanding of this habitual behaviour, the programme addresses the many facets of the issue and eliminates the need for it once and for all.
How does hypnotherapy work in this programme?
The hypnotherapy aspect of this programme enables change to be effected more easily. However, this programme is more than just using hypnosis. It has been designed to work with both your subconscious and conscious minds to achieve successful results. Therefore, this is based on realistic outcomes and practical applications but with the ease that is natural to us all.
Whether it is triggered by stress, loss or boredom, this programme has been designed to help a smoker become and remain a natural non-smoker for life in the easiest and most natural way possible. This has worked successfully for many people who are surprised at how easy the changes happen. Many lose the urge to smoke after the first session and have completely stopped by the third. The smoking habit may be young or old (1 or 50 years old), heavy or light (more than a packet a day or less a week).
Have you?
1. An awareness and acceptance of where you are now - a reluctant smoker.
2. A strong desire to be smoke free.
3. An open mind.
The choice is yours now ...
to be a natural non-smoker.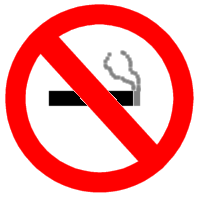 What you need to do now is ...
1. Make a personal decision to be smoke free.
2. Call Pauline on 0800 377 363 for an appointment.
3. Read through this brochure.
4. Attend your appointments and complete any exercises as prescribed.
Thereafter, enjoy your life as a non-smoker.
Call now for a free obligation free appointment to assess the suitability of this programme to your circumstance and to discuss how hypnotherapy with Pauline can help you be free of this habit easily.
Are There Any Side-Effects?
You will feel wonderfully relaxed, calm and confident. Your positive image will be noticed by everyone, as you become more accustomed to the natural smoke free person that you are.
This programme works towards successfully minimising or eliminating withdrawal symptoms (ie. irritability, headaches, eating) normally associated with quitting smoking.
When you choose to become smoke free with hypnotherapy, your moods will remain calm, your head clear and your eating habits normal.
Are you ready to reclaim your personal power - free of smoke.
It is Your Call ...
If you always do, What you've always done,
You'll always get, What you've always got.
(Henry Ford)
Call Pauline now on 0800 377 363
and step up to feeling GREAT!!!
Terms and Conditions of using this website.
---
© 2005-2011, Pauline Kam, True Essence. All rights reserved. Last updated: on 18 January 2011.